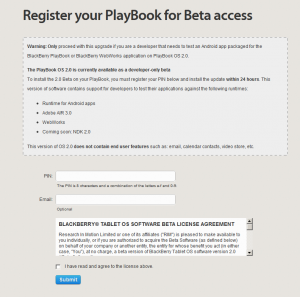 Well I think everyone was quite upset that the new PlayBook OS 2 was not released when Mike L left the stage on Tuesday morning. I was quite excited to watch the live coverage and was also a bit disappointed to get nothing more then an announcement that BBX was the new platform name. With that said this expectation for RIM to release the new OS was my own fault, RIM has said nothing that it was going to be released, so this was just BlackBerry community hype that caused me to think it would be. Even though we did not get a public released of the BlackBerry Tablet OS 2 we did get something. RIM has allowed curious people and developers to download a beta version of the OS, I was happy to at least get something to play with. The current OS just feels so stale to me now and needs so many improvements, so it is worth losing Bridge applications to get this new OS. To be quite frank I like the fact that bridge is there but I don't think I use it very often because my BlackBerry is never more then 1 foot away from me at all times.
So I decided to make the leap and see what was up with the new OS. After doing a bit of searching I found the link to register for the PlayBook OS 2 download. The page was kind of hard to find so for everyone else here is the link https://bdsc.webapps.blackberry.com/android/beta/bbtablet20/register/. I for one cannot believe how simple RIM has made this process. If you want to test out the new Beta OS all you need to do is go to the above site  and enter the PIN of your PlayBook. Once you PIN has been added that's it!  RIM will process your request and then an update will be made available to you on your Tablet. One click and you are done! HOLLY CRAP RIM……. thank you, thank you, thank you,  for listening and making a process easy!
So I will be toying around to see if and what has changed, and if it is worth keeping on till the public release comes out. One thing I wanted to test was if when bridged that the internet connection still works to my BlackBerry or if everything that uses BlackBerry Bridge is dead. I know you can't use the bridge apps but have not read about bridged internet connection. Mind you I have read some places that say you can use your browser to access the bridged applications still (http://127.0.0.1:187) .
I will update my post when I have more information.
Update: Please see my post here on the OS 2 updates http://caspan.com/2011/10/playbook-os-2-new-features-i-have-found/

© Caspan 2011