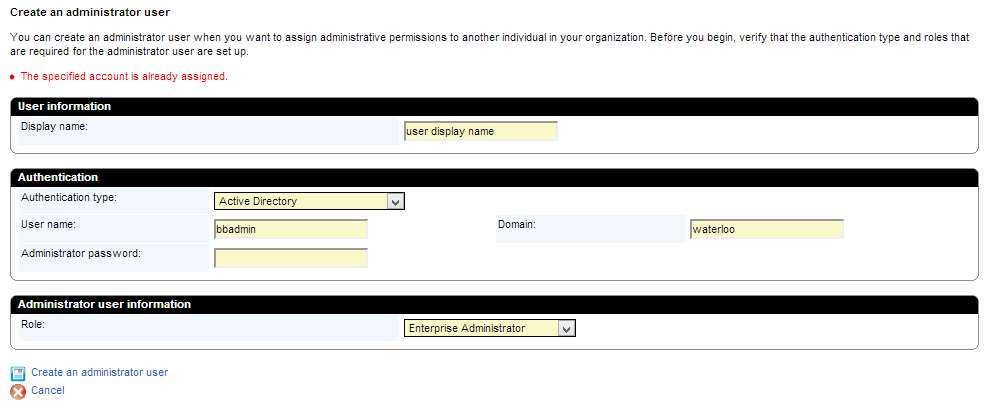 If you have set up the new BlackBerry Device Service in anticipation of the new upcoming BlackBerry 10 launch or to manager your organizations PlayBook devices you may run into an issue like I did. I followed the BlackBerry docs to install my BDS and logged into my new BDS website using the service account I used to install it with. I then proceed to add the required administrators form AD. The problem was that i kept getting an error every time I tried that "The specified account is already assigned" This was a brand new server and shared nothing with our old BES server so how could this account already be assigned? After a bunch of trial and error i finally figured out the issue. If you are having the same issues please follow the steps below:
When adding enterprise administrator I have read that you have to be logged into the site as the same service account that you installed BDS with. In my case I had no choice as this is the only use that could get in after my install.
Display Name: When it asks for Display Name this needs to be the name that you want to show in the user list of the user you are about to add, it can be anything.
Authentication type: I left this as Active Directory because this is where the admin user was that I was adding.
User name: There is where it gets confusing, what user name is it looking for? This is the username of the user you are trying to add
Domain: this is the domain where the user you are trying to add is located.
Administrator Password: now you would think this would be the password of the user you are adding right? Wrong, this is the password of the administrative account that you are logged in as!
After you realize what each field is looking for it makes sense but it's about clear as mud why they are so generally labeled and could mean three different things. I was getting the error because I was putting in my account that I used to log into BDS with as this is what I thoguht it was looking for. I hope this helps everyone!


© Caspan 2013