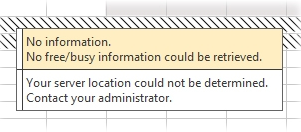 We were having issues where a single user was having troubles trying to see other users free busy time. They would try to schedule a meeting and add users and rooms but they always got the "No free/busy information could be retrieved, Your server Location could not be determined" This was on a Windows 8 machine with Outlook 2013 connecting to a Exchange 2007 server. No other users were having this issue with the exact same configuration. I tried to remove the users mail profile and re-add it with the same results. There were a lot of users complaining on the net about the same issue but none of their solutions worked for us.
We contacted Microsoft to find the very easy solution to this problem. Our versions of office were downloaded from Microsoft's site that came part of Dell computers we buy. Microsoft call this version of office Click-to-Run Office. In this version of Office, for some reason Microsoft has decided to leave it up to the user to decided when to install updates. The user is given no information regarding when updates are available and it is up to the user to manually install these updates. To find these updates I had to open Office, go to File > Office account from there you can chose to install updates.
This fixed our issue because the user had installed some Windows updates that interfered with Office. MS released a patch for Office to fix it. Logically if you don't install the update you don t get the fix. So we had to spend $249 US to be told to look for updates we have been taught for so many years are just automatic. Felt so dumb it was such a simple solution but to the same extent  all previous versions always auto updated with Windows.


© Caspan 2014